Do you struggle with talking heads or an overreliance on body language cues like smirking or eyes widening or brows furrowing when you're writing dialogue passages? You're not alone. It's so tempting to reach for those easy, common body language cues, especially in early drafts.
As a developmental editor, I've recently realized that my advice to clients when strengthening or replacing body language descriptions always goes one of two ways. I encourage the writer to either:
Zoom all the way into that character's head, or
Zoom all the way out to show the reader how they're interacting with the setting.
I call this the inside/outside tip, and it's all about adding richer context to dialogue by avoiding an overreliance on middle-distance description.
But why is an overreliance on body language a bad thing?
We overuse body language in fiction
Lemme start by clarifying my point: there's nothing wrong with describing body language, and many descriptions of body language are useful, if not necessary, to our writing. But when crafting dialogue passages, we tend to lean on body language even when it isn't the strongest possible way to convey a character's emotion.
In particular, we often focus on facial choreography, describing the way a character's eyes, mouth, or brows are moving. When used too often, these action beats being to feel meaningless—almost as if we plug them into dialogue passages in order to attribute the dialogue rather than enhancing it.
How important is it, really, that his brows raised?
That her eyes narrowed?
That he flashed a grin?
Though all of these cues tell us something about the character, they're shorthand descriptions of emotion. At times, the shorthand is perfectly suitable; if the reader already understands the context, a small reminder is ideal.
At other times, however, body language cues can feel vague, repetitive, or even disruptive to the story flow.
This is particularly true when the point of view character uses body language to convey their own emotional state to the reader. Although most people are aware of how their faces move in conversation, we tend not to think too much about our micro-expressions in casual conversation. Why would our characters be any different?
Thus, when a POV narrator relies on descriptions of their own face to give the reader a window into what they're thinking or feeling, it reads like they're observing themselves from the outside, either
increasing psychic distance, or
creating a POV error.
How does that character know their own eyes have darkened? This implies the character can observe themselves from outside their own body, which could jolt the reader out of the story.
But… what about 'talking heads?'
Many writers learn to incorporate abundant body language cues into their writing in order to avoid an issue called 'talking heads.'
When we receive criticism that our characters feel like 'talking heads' during dialogue exchanges, it means that, while the bare facts of a conflict are conveyed through speech, the reader has no idea
Who these characters are
Where these characters are
What their body language is conveying.
New writers often lean on body language in order to avoid giving the reader the impression that dialogue lines are spoken by disembodied heads. Though it's a good start, it won't provide quite enough context; even the best-crafted body language can't hit points #1 and #2.
Think of it this way: body language is one part of a much greater descriptive whole. It's the connective middle between a character's thoughts (interior) and a character's actions (exterior).
And without the inside (thoughts) and outside (actions), the connective middle begins to lose its meaning.
So, if not through abundant body language and facial cues, how else can we enrich our dialogue and avoid talking heads?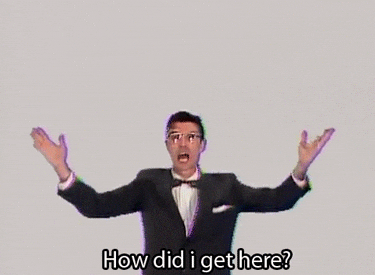 Go 'outside'
One element of talking heads is called white room syndrome, in which the setting description is so minimal—and the characters interact so little with it—that they might as well be having a conversation in a blank, white room.
This is where 'outside' comes into play: give your readers a window into who your characters are and what your characters are feeling by showing their interaction with the setting.
Bear in mind, I don't mean your character should repeatedly sip from a teacup during a sit-down meal; interactions with props can be just as meaningless as repetitive body language cues.
But could a character in the midst of an argument make tea aggressively in a Regency romance by setting cups down with a clank, stirring in sugar so hard the tea sloshes over the rim, dropping spoons with a clatter? Sure!
How your character interacts with the setting will lend context to the conversation they're having. What other interesting interactions with setting can your character have in order to give a window into their internal world?
Can your characters argue while reorganizing a bookshelf and start slamming books into their places? Would an anxious character in a restaurant scene start organizing condiments by size and shape? While planning a heist, would the easily distracted character click a pen over and over until the hair-trigger-temper character leaps across the table to rip it out of their hands?
Going 'outside' of body language to show interaction with setting is a great choice for all characters, but when it comes to POV characters, we have a second option that's just as powerful:
Go 'inside'
By going 'inside,' I'm referring to a POV character's interiority: their thoughts, judgments, and how they unpack, contextualize, and make sense of the conversation they're having. Interiority not only deepens the connection between the reader and the character, but it can also ascribe additional meaning to a non-POV character's words or body language.
Interiority strikes back at talking heads by showing the reader who these characters are, preventing a back-and-forth dialogue exchange from losing meaning. It can take several different forms, including
"What do you want?" the shop-keep asked as he spun to face her. He had a blunt face with a scar cutting into one cheek. "Well? Spit it out. Don't got all day, y'know."
"What do you want?" the shop-keep asked as he spun to face her.
Damn, he's ugly. "Uh, I—"
"Well? Spit it out. Don't got all day, y'know."
Impatient, too.
"What do you want?" the shop-keep asked. He had an ugly mug and an attitude to match, and interrupted her attempt at a reply. "Well? Spit it out. Don't got all day, y'know."
All three of these examples show different flavors of interiority, but there's no reason you couldn't use a combination of them, moving between description and thought as necessary to show the reader both what the POV character is observing and what judgments they're forming about it.
It's also possible (and encouraged!) to combine inside/outside in a single line where appropriate.
For example:
The shop-keep slammed a cabinet shut and spun to face her. He had a blunt face with a scar cutting into one cheek, and an attitude to match his appearance.
"What do you want?"
Sara clutched the package to her chest. "I uh—"
"Well? Spit it out. Don't got all day, y'know."
Impatient, isn't he? She'd have to sweeten him up or she'd never get her refund.
Tools, not rules
As always, remember that these are tools for your writer's toolbox—not rules that ought to be obeyed to the letter. I'll never tell authors to wholesale delete darkening eyes or cocky smirks or arched brows, but I will issue a challenge:
If you find yourself using a lot of the above descriptions, pick up a highlighter while working on your line edits and use it to pick out body language cues in your dialogue passages. For each one, ask yourself: is this the best possible way to show the reader what's going on?
If I substituted one of these cues for interiority or environmental interaction, would it add meaning, balance, or clarity to the scene?
I suspect you'll find that the answer is often 'yes!'
Body language can't carry a conversation on its own; as with all elements of craft, it's a middle-distance tool we can reach for when neither inside nor outside feel quite right. In other words, I'm not asking writers to thinking critically about our use of body language in dialogue passages in service of eliminating body language, but rather, as a way to encourage balance: the secret ingredient for clear and compelling prose.

Do you overuse body language in your own writing? I sure do! I find it all the time when I'm self-editing. Here's your boilerplate reminder that it's impossible to get it all 'right' in the first draft, so don't get discouraged! Words on the page can always be tweaked, and getting that story down in draft form is a victory in and of itself.
Let's chat
Let me know what body language cues you overuse in the comments, or fire away with any questions you have about the inside/outside trick.
Or share a short excerpt of a place where you've used the inside/outside trick to enrich your dialogue passage!
Support the blog
Did you find this blog helpful? Consider becoming a patron to support Cee's writing!