This morning, I read an article called The 5 Finger Fantasy Rule: A Plea for Mercy from SFF Writers. The article writer delved into a worldbuilding and story craft issue many SFF writers struggle with: how to help readers learn the vocabulary of our worlds without setting their brains on fire.
As a SFF writer, I'll readily admit the steep learning curve that comes with starting a new SFF novel. Our books tend to throw terminology at the reader fast and furious, including but not limited to:
Large casts of named characters, many of whom are called by multiple names
Second-world geography which adds a host of place-names
New political, economic, religious, and social structures which add descriptive names and titles
Stuff. Just a lot of magical, second-world stuff.
Vocabulary is part of what immerses readers in our stories. Good SFF writing can blend new vocabulary into storytelling in a way that's seamless and easy-to-understand, allowing the reader to define each word (and cueing them to remember names) in context. That's a serious skill to learn how to build, though, and new writers tend to overexplain their worlds as a result.
As we start to learn more about writing and worldbuilding, however, we end up swinging in the other direction. This is the battle I'm currently fighting with my writing: underexplaining definitions or not giving enough contextual clues or reminders to the reader to allow them to follow who does what/when/where. Sometimes, I throw too much information at the reader in rapid succession, asking them to absorb more than they can reasonably handle.
The first paragraph hit me in the face with a series of words I didn't recognize. City name, person name, country name, rank, etc. I felt like I bounced right off the story. I couldn't get a grip to get into the actual meaning of the words. I ended up having to read it almost phonetically to get through it. Soon, I got into the meat of the story, but it was a challenge to get started.

Ellis, The Five Finger Fantasy Rule
That learning curve is no joke. It's hardest to handle in the early pages when we're laying the most groundwork for worldbuilding and introducing the bulk of our cast. If we don't work to mitigate its steepness, we run the risk of bouncing readers out of our story.
I'm not quite like Ellis in this case — I have an ultra-high tolerance for dense SFF jargon, and am willing to forge on for quite a while if the premise of the story or the protagonist is interesting enough to draw me in. But not all readers are or should be like me, and it's important for me to recognize places where I'm making the learning curve so high that I suck all the enjoyment of reading away from a segment of my target audience. Though my primary audience comes from the high/epic fantasy segment and are used to getting thrown into the deep end of a new world, I want my writing to have broader appeal to newer SFF readers, too.
This is where the five-finger rule comes in.
The five-finger rule writing rule
The five-finger technique is most often used with children as they're learning to read. Educators assess whether a book is a good fit for the child by having them read (aloud or to themselves) and put up a finger each time they come across a word they don't know. If they hit five or more fingers before they've reached the end of the first page, that could be a sign that the book is too difficult for the child. While we want kids to challenge themselves, we don't want the experience to be so infuriatingly difficult that they come to hate reading, so educators will pick a book at an easier reading level to start off with.
Here's Ellis' recommendation:
"Don't introduce more than three new/world-specific words — or maximum four — on the first page of your novel, and that includes people and place names."
Seems reasonable, right?
Of course, it's not a hard and fast rule. There are going to be times when we have to break it out of necessity. Even calling it a rule gets my hackles up. I'm a "tools, not rules" type, so I'd rather think of this as a self-assessment tool than any kind of metric I'm meant to meet. As we're writing, if we're concerned the writing is too dense, we can check to see how many new words (or relatively new words) we've dropped per page. If we see that number climbing up towards the double-digits, it might indicate a readability issue.
The five-finger rule can help us with our vocabulary learning curve, but what about reader memory and retention? Especially for epic writers who may go hundreds of pages without seeing a particular character, setting, or concept, this is important. Once we've spent enough time away from a side character, seeing their name anew is functionally a reintroduction. Earlier on in a story, readers may also tend to confuse two characters (or words, or settings, or, or, or).
In part, this is a five-finger rule problem: the way we introduce these characters is important. If it's a side character, linking that character to a particular title, item, physical attribute, or personality trait will help the reader remember them. They might not know who Alexandris is when he's mentioned for the second time on page 342, but they're more likely to remember the tall chancellor with the bulbous nose.
These are grounding techniques for the dissemination of worldbuilding information that are great tools to practice in our writing, but sometimes they're not enough to save us. Why?
Because the very vocabulary we use — the names we chose! — are working against us.
Our minds work in funny ways…
If you've spent much time on the internet since, oh, about 2003, you've probably seen this image kicking around:
There are obvious caveats to this: learning disabilities, how many words are in a sentence, the relative complexity of words, etc. Newsletter headlines tend to be more difficult to read when scrambled because they cut out a lot of cue words (as, the, if, to, a) that help make a sentence decipherable to save on space.
Yet for most readers, the general principle holds true. The most important letters in a word for us are the first and last letters. What happens in the middle is a total jumble.
Now think about how this might apply to the second-world vocabulary in your SFF story.
When we write — especially if we're using conlangs! — we tend to limit ourselves to a narrow subset of starting letters. In my series, my crutch letter was A. I have so many A-names (and A-words) my readers have noticed and make a running joke out of tallying them each time they show up. When I was writing, the words all looked different enough to me that I didn't notice what I was doing at the time. Now, I realize that my readers can't be asked to remember whether it was Arin or Arod who once sent his brother to his death. Not when I also have an Arden, an Armathia, an Aleksan…
…you get the picture.
Scrutinize your names. Do you have a Mario and a Macuro? Those are too structurally similar to be used in the same book! Or, do you have an Arauz and an Eras? Those might not look similar on paper, but try saying them out loud. Is there a difference in pronunciation? Sure. Is it different enough that someone listening to an ebook would have an easy time remembering who is who? Probably not.
This goes beyond names for people and crosses over with place names, spell names, title names, etc. I can't name my capital city Nurisia and name a character Nausica; I'd drive my readers nuts.
That's why, in the planning phase of my new novel, Tombs of Glass, I tried a simple trick that helped me avoid making the same repetitious naming mistakes I'd made in the Oceana Series. The trick is a simple: list-style chart that tracks names in different categories (people, places, things) to prevent me from tripling up on letters. I also created a (somewhat) alphabetized name pool for the first time before I started naming characters this time around — a cheat that I highly, highly recommend if you tend to fall into this trap.
Want to see how I did it? You can find the rest of this post on my Patreon, where I share pages of my writing notebook (and loads of other content) with supporters.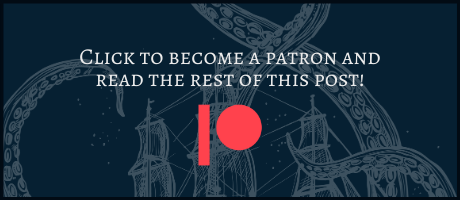 How do you avoid overloading your readers with a too-steep learning curve? Do you have any tips or tricks for making your character names (and other vocab) memorable? Tell me about it in the comments below!